This Is The Day!
2022
Puskás Aréna Budapest
Worship event in Hungary's biggest stadium on 23 July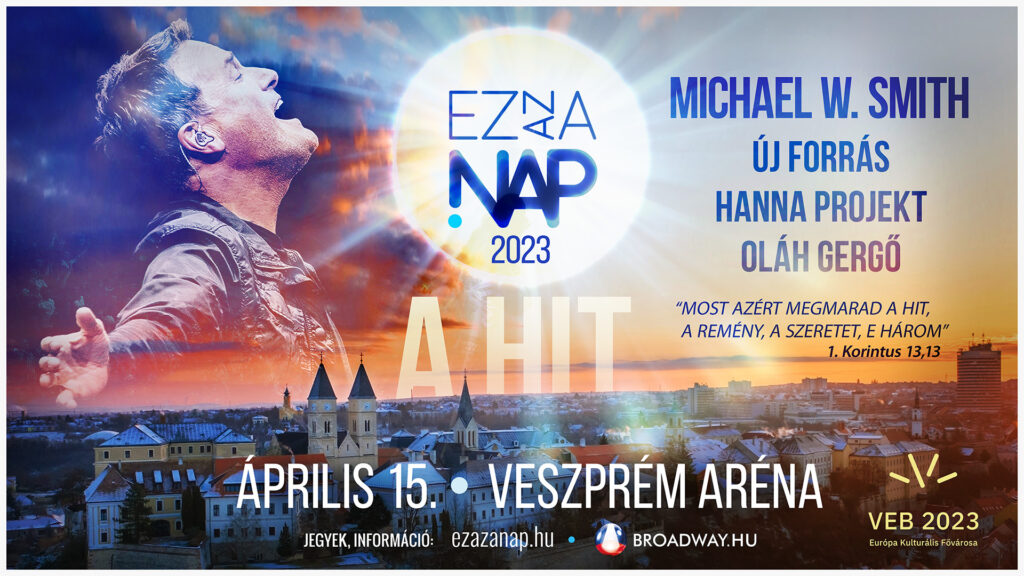 Michael W. Smith
Veszprém
15 April

The This is The Day! 2023 in Veszprém will take place as part of the Veszprém-Balaton 2023 European Capital of Culture programme on 15 April at the Veszprém Arena. The event will feature the world famous Michael W. Smith, and the Hungarian artists Gergő Oláh, Új Forrás and Hanna Projekt.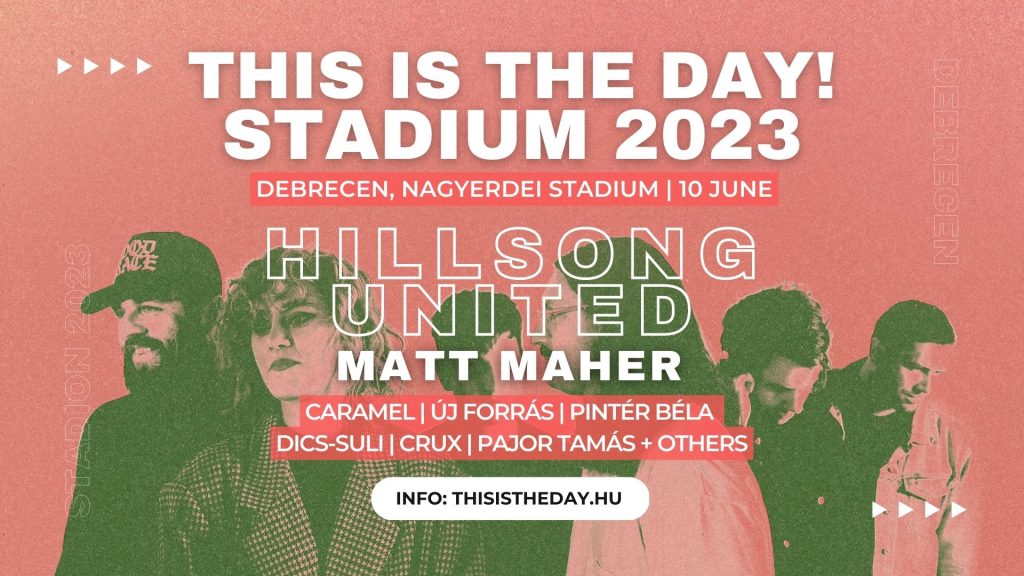 This is the Day! Stadium 2023
Debrecen
10 June

It is with great joy and enthusiasm we invite you to Debrecen to "This is the day! Stadium 2023", where, alongside Hungarian worship bands, Hillsong UNITED and Matt Maher will also perform!
After last year's event at the Puskas Arena in Budapest, we saw a great need to take the fire and enthusiasm we experienced to other cities across Hungary and even beyond our borders. In 2023 we will bring God's message of joy through worship to the Veszprém Arena on the 15th of April, the Pula Arena in Croatia on the 3rd of June and the Nagyerdei Stadium in Debrecen a week later.
We are grateful to have Hillsong UNITED from Australia with us for both June events. We believe that their musical talent and spiritual attitude will help us to draw closer to God. They will be joined on stage in Debrecen by Matt Maher, Caramel, Új Forrás, Béla Pintér, Tamás Pajor, Dics-Suli Band, Crux and several other worship groups to be announced soon.
Tickets are available for 3990 HUF and 6990 HUF. Group discounts are available for 5+1 (pay 5 gets 6), 10+2 and 20+5 tickets.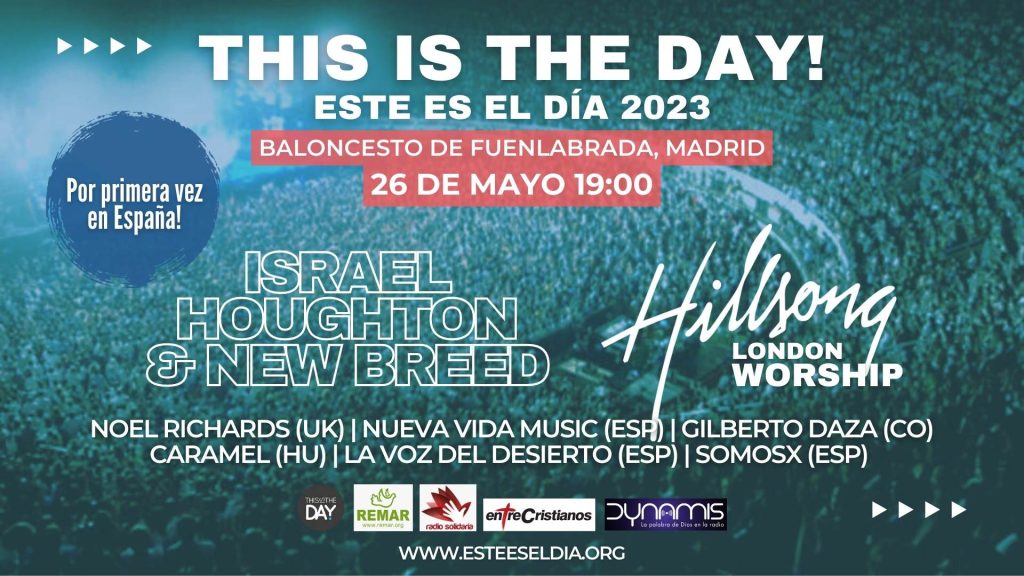 This is the Day! Iberia
Madrid
21 May

For the first time, This is the day! (Este es el día) in Spain! We are waiting for you on 26 May in Madrid, where the following artists will perform: Israel Houghton & New Breed, Hillsong London, Noel Richards, Nueva Vida, Caramel, Gilberto Daza.

This is the Day! Adria
Pula
3 June

We are grateful that Hillsong UNITED has accepted our invitation to worship with us in Pula. We believe that their musical talent and spiritual approach will help us draw closer to God. They will be joined on stage in Pula by Matt Maher (CAN), Nina Badrić (HR), Bruno Krajcar (HR), Ivana i Marija Husar (HR), Andrej Grozdanov (HR), Emanuel (HR), Zbor Mihovil (HR), Noel Richards (UK), Nico Battaglia (ITA), Svetnik (SLO), Utrip Kraljevstva (SLO), Caramel (HU) and several other worship groups that we will be announcing soon.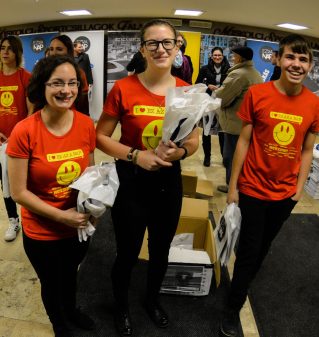 Volunteering
If you would like to contribute your service to the blessings of the event, please volunteer.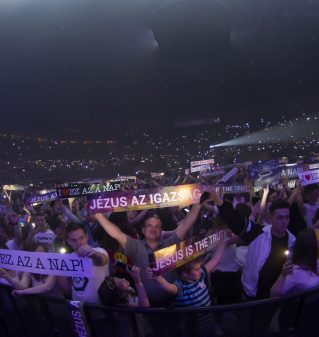 Donations
Our ministry is supported by donations, which are gratefully received.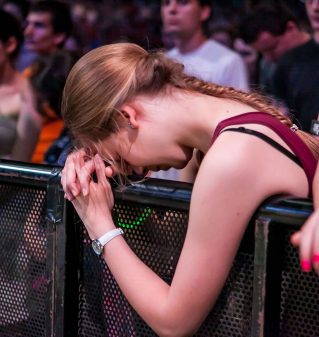 Prayers
Please pray with us to our Heavenly Father for the blessings of This Is The Day 2022!
Do you already have your place?
Tickets purchased in previous years are valid for the same seats on 23 July under the same conditions!
New tickets are available at discounted prices for both seated and standing sections.
Frequently Asked Questions
Phone
+36 1 436-9865
Email
info(at)ezazanap.hu
Address
1032 Budapest, Bécsi út 189. 1/3.
Donations
EZ AZ A NAP! ALAPÍTVÁNY
Account number: 11703044-21455364
IBAN: HU11 1170 3044 2145 5364 0000 0000
BIC (SWIFT): OTPVHUHB